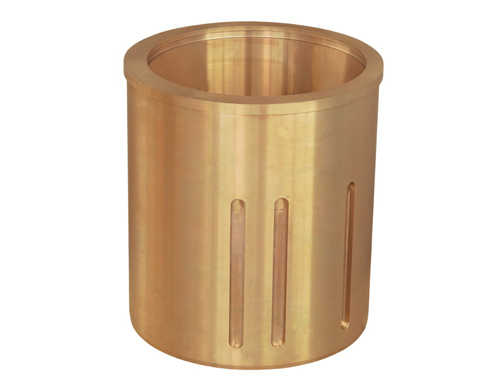 Characteristics and Applications

Eccentric copper sleeve, high lead copper sleeve, environmental protection recoverable copper sleeve. With strong wear resistance and self lubrication, it can show excellent flexibility under the load of high speed rotating and swing motion. It is the first choice for high speed machine equipment.
detailed parameters
●Product Name: crusher eccentric sleeve
●Material brand: ZQPbD10-10
●Casting mode: centrifugal casting
●Products: large copper bushing, eccentric copper bushing, flange copper bushing.
Comprehensive introduction
●Material name: cast copper alloy 10-10 high lead tin bronze
●Brand name: ZCuPb10Sn10
●Standard: GB/T 1176-1987
●Chemical composition:
Copper Cu: the rest
Tin Sn:9.0 ~ 11
Zinc Zn: less than 2 (not included in the sum of impurities)
Lead Pb:8.0 ~ 11
Phosphorus P: less than 0.05 (impurity)
Nickel Ni: less than 2 (not included in the sum of impurities)
Aluminum Al: less than 0.01 (impurity)
Iron Fe: less than 0.25 (impurity)
Manganese Mn: less than 0.2 (impurity)
Silicon Si: less than 0.01 (impurity)
Antimony Sb: less than 0.5 (impurity)
Sulfur S: less than 0.10 (impurity)
Note: the total amount of impurities is less than 1
●Mechanical properties:
Tensile strength sigma B (MPa): > 220
Yield strength (MPa): > 140
Elongation of delta 5 (%): > 5
Hardness: > 685HB (reference value)
●Heat treatment specification: pouring temperature is 1000~1100.
●Casting method: centrifugal metal casting
Field of application
Application of crusher type and specification field