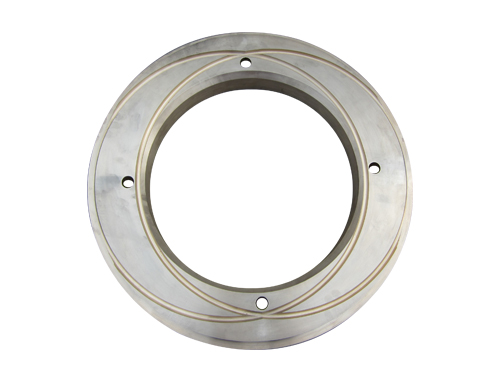 Eccentric oil tank copper gasket, heavy-duty copper gasket, environmentally friendly recyclable copper gasket. This product takes the excellent electrolytic copper as the matrix, mixes the tin ingot and the lead ingot according to the national standard proportion, forms the high wear-resistant self-lubricating copper alloy material. In the absence of lubricants and water lubricants, it exhibits excellent sliding and self-lubricating properties. Under the load of high-speed rotation and rocking motion, the impact load is up to50MPaIt shows excellent flexibility and is the first choice for high-speed running machinery.
Product Name: large eccentric oil grooves copper washer
Material brand:ZQPbD15-8
Casting mode: centrifugal casting
Product categories: large copper gaskets, Heavy copper gasket, eccentric oil tank copper washer
●Material name: Casting15-8High lead tin bronze
●Brand name:ZCuPb15Sn8
●Standard:GB/T 1176-1987
●Chemical composition:
CuThe rest
Sn:Seven~Nine
Zn:Less than 2 (Not included in the sum of impurities)
Pb:Thirteen~Seventeen
P:Less than 0.10 (impurity)
Ni:Less than 2 (Not included in the sum of impurities)
Al:Less than 0.01 (impurity)
Fe:Less than 0.25 (impurity)
Mn:Less than 0.2 (impurity)
Si:Less than 0.01 (impurity)
Sb:Less than 0.5 (impurity)
S:Less than 0.10 (impurity)Note: sum of impuritiesLess than 1.Mechanical properties:
tensile strengthSigma B (MPa):More than 200Yield strengthSigma (MPa):More than 100elongationDelta 5 (%):More than 6hardness :More than 635HB (reference value)
●Heat treatment specification: heating temperatureOne thousand and two hundred~One thousand two hundred and fiftyCentigrade; pouring temperatureOne thousand one hundred and fifty~One thousand and two hundredCentigrade.
●Casting method: centrifugal metal casting