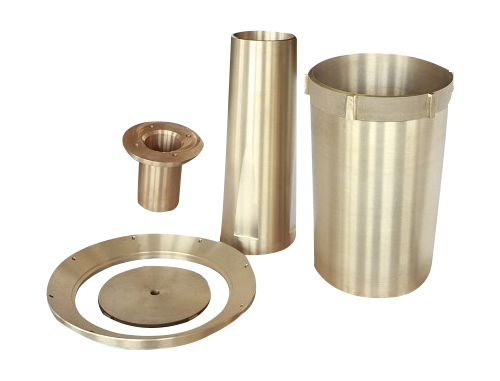 Large wear-resistant copper sleeve, corrosion-resistant copper sleeve, environmentally friendly recyclable copper sleeve. Using excellent electrolytic copper as matrix, tin ingot, lead ingot and zinc ingot were mixed to form high wear-resistant copper alloy with good casting performance and air tightness. Working under high load and medium sliding speed, it shows high wear resistance, corrosion resistance and self-lubrication performance, and is the first choice for medium and high speed running machinery.

Product Name: Simons copper fittings combinationMaterial brand:
ZQSn5-5-5Casting mode: centrifugal casting
Product category: large copper sleeve,
Wear-resistant copper parts. Material name: cast copper alloy
●5-5-5Lead tin bronzeBrand name:
●ZCuSn5Pb5Zn5Standard:
●GB/T 1176-1987Chemical composition:
●Cu
Cu The rest
Sn:Four~Six
Zn:Four~Six
Pb:Four~Six
P:Less than 0.05 (impurity)
Ni:Less than 2.5 (Not included in the sum of impurities)
Al:Less than 0.01 (impurity)
Fe:Less than 0.3 (impurity)
Si:Less than 0.01 (impurity)
Sb:Less than 0.25 (impurity)
S:Less than 0.10 (impurity)Note: sum of impuritiesLess than 1
●Mechanical properties:
tensile strengthSigma B (MPa):More than 200
Yield strengthSigma (MPa):More than 90elongationDelta 5 (%):More than 13hardness :More than 590HB (reference value)
●Heat treatment specification: heating temperatureOne thousand one hundred and eighty-eight~One thousand two hundred and twentyCentigrade; pouring temperatureOne thousand one hundred and fifty~One thousand and two hundredCentigrade.
●Casting methods: sand casting and metal casting
apply Crusher Model and specification field